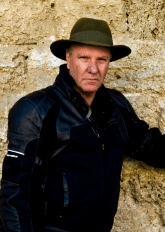 Doron Ben Shimon
For many years Doron Ben Shimon worked in a senior position in the business sector, until he decided to replace his business suit with a backpack and became a tour guide. The tour guide course and hundreds of tours he guided in Israel gave him a profound perspective on the Land of Israel and its heritage legacy.
Even as a child the dramatic event of the Judeo-Roman War aroused his curiosity for many years, and as someone who loves photography he could almost imagine the screams and the smell of the terrible defeat as if he were there.
While writing the novel "The Fall of the Jewish Temple", the book "The Jewish War" by Flavius Josephus was his constant companion. The author also studied and researched additional sources and commentaries on Falvius Josephus's books. To enrich his knowledge of the Roman empire in the time of the Second Temple, Doron Ben Shimon visited Pompeii, Rome, Yodfat, Caesarea, and Jerusalem many times, gaining a new perspective of the Roman world.