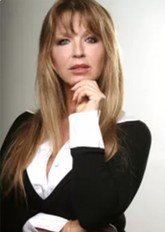 Dr. Dorit Silverman
I was born Jewish and Israeli in Haifa, a totally binational city. I now live in hardcore Tel-Aviv, on the longest street of the city in memory of the murdered Arlozorov.
I have two pens at home – with one I write novels, with the other I write statements of claim or defense as a lawyer for family law. I also use the writers pen as an editor and as a ghost writer (What is it? Imagine those skits where one person stands with its hands behind its back and another person stands behind him, sticking its hands out to function for him.) In between I lecture, teach creative writing courses and other various livelihoods.
I got my PHD for literature and Philosophy on 1990, at the Bar-Ilan's secretariat that carried the sign "Via Doctoroza". After a while I cooled down, and after a while longer I wanted more, and on 2001 I went to law school. I received my lawyer diploma from the former chairmen of the supreme court- Aharon Barak.
I wondered through many universities – Tel-Aviv, Haifa, Bar-Ilan, the Negev and Beer-Sheva as a lecturer. I was Dean at the Hameshulash College at Bak'a El-Garbia, and at Beit-Berl College I was head of the artistic writing department. I wondered a lot until I realized that the academy is not the right institute for me.
I took part in some international conventions, lecturing about my writing. My books were translated in to several languages, and you can look that up at the BOOKS pages. I received several scholarships, awards and grants, which helped as an income as well as a good substitute for applause that singers always get at the end of a good show and writers never get at the end of a good book, when you finish reading it at 2am, alone, on some remote Bed.
Such as:
The "Tel-Aviv Foundation for Art and Culture" Award for Literature, 1980.
The "Dov Sadan Foundation" Scholarship for Master's Degree Paper, 1981.
The "Memoerial Foundation" Award for Jewish Culture, 1991.
The "Israeli Film Fund" Grant, 1993.
The "kugel" Award for literature, 2001.
My favorite amongst my books is the next one.
Throughout all of my thoughts, which some were written and some were made in to books, I had three children. They are my masterpieces – Tom, Dean and Avigail.