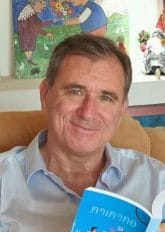 Daniel Stukalin
Daniel Stukalin was born in Vilnius in 1963. He immigrated to Israel with his mother when he was 8 years old. He grew up in Arad, graduated from the Sde Boker Environmental Education high school, served as a paratrooper and was injured during the Lebanon War of 1982. He completed his last year of service as a military reporter for 'Bamachane' magazine and continued in this position at 'Ma'ariv', 'Globes' and 'Galei Tzahal'. He then went back to his technical training and became a Service Engineer at leading hi-tech companies and an independent safety consultant for factories, construction sites and challenging start-ups. Daniel is father to Noa and Gilad and grandfather to Adam and Yahli. He draws, writes, swims and rides mountain bikes through the hills around his home in Modi'in.
A Dizzying Search is his second book.
His first book, "Closure", was published in 1992 and was recommended by the Ministry of Education.