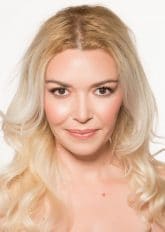 Dana Levy Elgrod
Dana Levy Elgrod is a romance writer. Her novels are loved by Israeli readers and have headed the bestseller charts for years. Levy Elgrod writes in a variety of romantic genres, including thrillers, historical, fantasy, and crime.
She began writing several years ago, following a successful career in communications and public relations, and hasn't stopped since.
Writing is her second love, though – her first love is reserved for her family. Dana is married and the proud mother of her daughter and son.