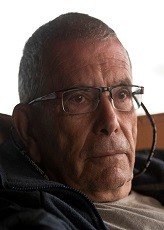 Dr. Dan Rogel
Dan Rogel is a senior scientist, who worked for many years in the Israeli defense industry, where significant achievements bear his name. He has twice received (an exceptional phenomenon) the most prestigious award in the country – the Israeli Defense Award. He also spent many years initiating start-up ventures in the development of technologically advanced medical devices. Throughout his life, he has dedicated much of his time to photography and has acquired considerable expertise in this field.
Since his retirement, several years ago, he writes thrillers and also travels around the world to places suited to photographing nature (Africa, the Amazon Forests, the North Pole).
He bases the content and the background of the stories in his books on his professional experience in these fields. Until now, his books have only been published and distributed in Israel, in Hebrew and online for reading on computers and the like.
His books have won acclaim from a steadfast audience that faithfully follows his stories and his photographs.