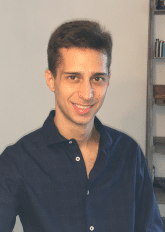 Dan Luxembourg
Dan Luxembourg holds a B.A. with honors in Government, Diplomacy, and Strategy from IDC University. He served 3 years in the IDF Special Forces' Yahalom Unit (Special Operations Engineering Unit) as a Staff Sergeant E.O.D. Specialist. Due to his military and work experience, coming from a family where the most precious value is to engage in meaningful conversations, Dan is always eager to create and engage in meaningful conversations, with a desire to solve or to create progress in complex issues and complicated subject matters. If you were to ask Dan where he wants to be in 10 years, he would answer with "Still being asked that question." Dan is always seeking something new to learn, and he will never stop dreaming.
Dan loves spending his time following politics, watching movies, documentaries, Youtube, TV series, and stand-up comedy, listening to music, playing video games, learning about science and philosophy, and finally, writing.
When he works out, there will always be a podcast in the background, covering one of Dan's many favorite topics, which range from filmmaking, philosophy, astrophysics, and politics, to the video game industry and ecosystem. His parents taught him that a day that goes by without learning something new is a day wasted, and that's Dan's way of life.