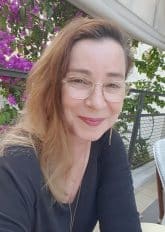 Dafna Cohen
Dafna Cohen is the firstborn daughter of Jewish European immigrants following World War II, a former Israeli Air Force soldier and a loving and devoted mother of two.
Cohen's first publication of paintings and stories, focused mainly on the exquisite view of her hometown Jerusalem, lead her to study creative writing and art, where she specialized in realistic portraits. She also traveled across Europe, cycled along the Vietnamese coastline, studied jazz piano in New York and trained as a life coach in San-Francisco.
She describes herself as a worldly woman who's fascinated by people and their relationships with each other. Cohen lives in the lively center of Tel Aviv where she continues her work on her next novels on love in an age of solitude.