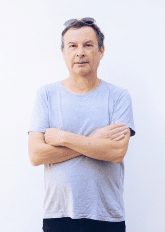 Benny Katz
Benny Katz was born in the same year as the state of Israel. His stories depict like paintings how sole individuals face huge events such as war, politics, new-money class, the generation gap, all in a multicultural immigration society. They are a kind of literary view of contemporary history from one who has experienced all these things in a family that arrived in the holy land in 1882.
Benny Katz started writing fairly late in his life. A late bloomer, he also writes plays, some of which have already been produced, as well as music that can be heard on Spotify, Apple Music, iTunes, Amazon, YouTube and more.
After many years in the advertising field, Benny Katz now writes only what he likes. Like a guitar player, which he is, he produces many different kinds of melodies.