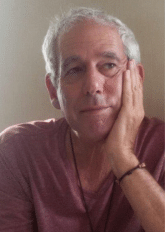 Dr. Amnon Dvir
Amnon Dvir was born in downtown Ramat Gan, on the outskirts of Tel Aviv.
During his childhood and adolescence, he lived in different areas in central Israel, usually on the Mediterranean coast. He was deeply inspired by historical and archaeological sites, which always awakened his curiosity. Yet thanks to his parents, who were interested in music and art, he was also drawn to contemporary art.
This eclectic combination of influences led him to explore a variety of professions – ranging from academic research at Tel Aviv University to writing newspaper reviews about music and literature, doing scientific editing for a publishing house, and working as an airline employee, a gardener and garden designer, in the theater, and more… These pursuits shaped his life experience and drew him to embark on an extended period of life abroad – an entire decade during which he travelled and worked around the world.
In addition to his academic research, he currently works in the field of mental health rehabilitation in Tel Aviv and its suburbs.