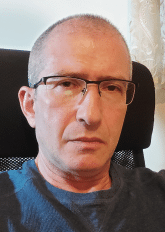 Alexandr Mish
Alexandr Mish was born in 1961 in Odessa, lived in Kishinev and studied economics in Kishinev State University. Today he is married and lives in Israel.
He is a medal winner of Moldavian and Israeli table tennis championship. He has written two fairy tales: "A Tale of the Dragon and the Two Knights" and "The Magical Crystal".
His book, "Tickets to Kolkata", was intended as a movie script, but over time the script became a book.