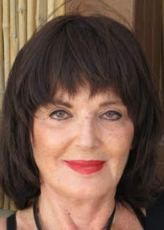 Sarah Segal
The author, formerly a Major in the IDF (Israel Defense Forces) was born in 1946 in Wysokie Mazowickie, Poland, the city where her parents suffered the horrors of the Holocaust. In May 1950, she and her family immigrated to the two-year-old State of Israel and were taken with hundreds of new immigrants to the Pardes Hanna transit camp. There they stayed, in tents and under appalling living conditions, for a year and a half before finding permanent residence in Moshav Magdiel.
Together with a surge of new immigrants, survivors of the European Holocaust and the pogroms in the Arab states, Sarah entered the melting pot of the gathering of Jewish Diaspora in new Israel. With them, she endured the austerity and poverty of the 1950s.
Sarah paved her path through academic studies and completed a degree in Criminology at Bar Ilan University in Ramat Gan, Israel. She went on to graduate with honors from Marketing studies at NYIT college, Manhattan.
In 1960, Sarah was recruited by the IDF and served in various positions, rising in the ranks to Major. In 1986 she completed her military service and boarded the first plane on the way to realizing her dream – succeeding in Manhattan's business world. Indeed, within two years, she started her own Real Estate company and ran it with great success.
After the tragedy of 9/11, Sarah decided that if she were destined to live under the threat of terror, she would prefer to do so in her own country – Israel. Back in Israel, she volunteered with "Tsevet", the IDF Veteran's Association, helping IDF veterans in the 1980s and 1990s.
Lately, Sarah has been spending her time writing. This is her second book.