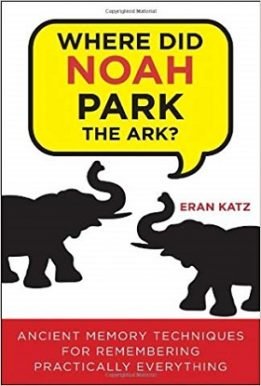 Author: Eran Katz
Language: English
Category: Business, Self-Help, How To
Where Did Noah Park the Ark?
Never again forget your keys, where you parked your car, your PIN number, or the name of the person you just met five minutes ago! 
Better than a daily dose of Sudoku, Where Did Noah Park the Ark? is filled with eclectic, remarkably effective techniques that will help you remember everything you need to—and avoid those awkward "senior" moments we all get from time to time. For instance:
·Remember names and faces using ancient Jewish practices, the Napoleon method, and the JFK technique.
·Recall dates, events, and long digit numbers with the remarkable system of gematria.
·Recollect tasks, lists, jokes and who begat who with Rabbi Leon of Modena's amazing cue system developed through forty years of wandering the desert with not a Post-it note in sight!
·Memorize vast quantities of information, articles, and books for exams with a little help from Hasidic yeshiva students and their unique learning style.
·Stand in front of an audience and deliver powerful presentations using the Roman room system and Cicero's De Oratore teachings.
·Upgrade your memory's overall performance with the Super Student Success Rules and other effective techniques.