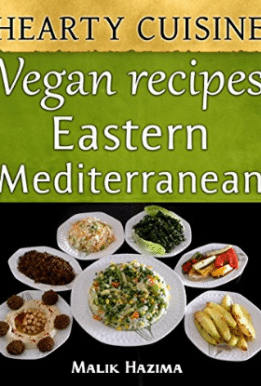 Author: Malik Hazima
Language: English
Category: Food, Health & Lifestyle
Vegan Recipes: Eastern Mediterranean Hearty Cuisine
What is more important in a meal, the taste? The calorie count? Or the nutritional values?
In this book you will find all, and more!
This book opens a window to the Eastern Mediterranean rural kitchen, and shows you a bit of the many options available to make vegan dishes, healthy and tasty.
Vegan diet is expanding and becoming a trend in the world. While a lot of people are more interested in becoming vegan, they think that vegans eat only fruits and vegetables, salads and soups.
You can indeed enjoy the food you cook at home! The book describes the culinary experience of a Mediterranean hearty rural village kitchen and I chose to share with you recipes that are tasty, easy to make at home and very rich in nutritional values.
There are more than 70 recipes in this book including salads, soups, cooked vegetables, legumes and cereals, patties, stuffed vegetables and desserts.
Healthy vegan diet essentials
In this book you will find out about the twelve principles of a healthy diet, healthy vegan diet essentials, basic ingredients in our kitchen, and my personal story about the way that healthy diet and a change in lifestyle helped me achieve a healthy new life.
Major food groups that provide energy and fuel
You will learn about the major food groups that provide energy and fuel to the human body. When we eat right, we get the foods' essential nutrients that get us on the right track to a healthy lifestyle. We have to maintain the right amount of foods that have essential nutrients, fats, proteins, and carbohydrates, as they are a determining factor in our health.
Includes delicious recipes for:
*Salads
*Soups
*Cooked vegetables
*Legumes and cereals
*Patties
*Stuffed vegetables
*Desserts