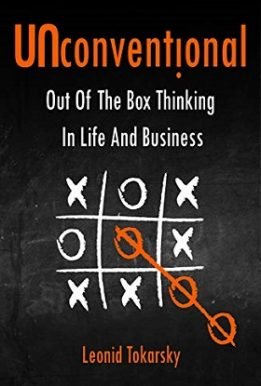 Author: Leonid Tokarsky
Language: English
Category: Business, Self-Help, How To
Unconventional
Unconventional thinking. Unconventional acts. Unconventional results.
In today's world the challenges we face are everywhere. They are many and constantly changing, but they all share a common denominator—the need to come up with solutions from a zero base, solutions that bring Unconventional results.
Unconventional thinking is the right approach to solving uncommon management problems and winning vital business competitions.
This book presents practical methods and shows examples of thinking outside the box and making decisions that are out of the ordinary amidst the chaos of managing an organization.
The book includes:
Stories about conducting business in unfamiliar situations under unwritten laws and customs inside the political systems of monopolistic dictatorial regimes
How one can fight corruption and distortions in the management of industrial companies by using the known managerial toolbox and by creating new, non-standard management tools
The innovative approach behind the development of the Lavi fighter plane, which changed the way combat aircraft design engineers around the world think
Leonid Tokarsky is a senior engineering manager with broad and extensive experience as the Director of Business Development for CIS Countries at the Israel Aerospace Industries (IAI), Chairman of the Board of a government owned corporation and board member in various companies. In his book he shares insights and tools that will help readers leave their comfort zones and develop a different way of thinking that will lead to a variety of new, Unconventional solutions.