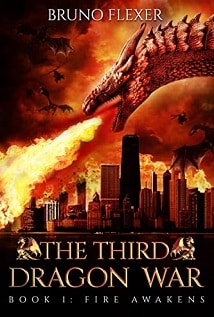 Author: Bruno Flexer
Language: English
Category: Science Fiction & Fantasy
The Third Dragon War
Nothing could prepare the world for the Fire that is the Third Dragon War…
Something sweeps over the Chicago skyline. Something ominous. Something violent.
Something Big.
Jamar Jackson is trying to make his delivery deadlines over the Illinois Interstate when he's caught in a destructive fire devouring its way towards the Windy City.
Just barely making it out alive, Jackson joins forces with Dr. Beverly Thompson, a biotechnology expert and head of a US military task force investigating what turned the Chicago metropolitan area into a fiery warzone.
But they are not alone.
As droves of dragons take over the windy city, Jackson and Thompson's infiltration team is soon surrounded by hellish mythical creatures, mutating monstrosities, and bizarre dragon cultists. While harboring dark secrets of their own, the unlikely pair make their perilous way into downtown Chicago, where long-lost answers await them.
Answers that will shake the very foundation of the world – forever.