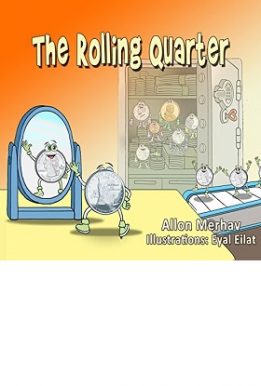 Author: Allon Merhav
Language: ENGLISH
Category: Children & Young Adults
The Rolling Quarter
Join our hero, the QUARTER, on a joyful educational journey that is all about coins!
This lovely children's book, written in verse, tells the story of our hero, the QUARTER, from his creation at the mint, with images imprinted on his head and his tail. Through the QUARTER'S eyes, young readers experience the journeys of a coin from one wallet or piggy bank to the next, via stores and shops, banks and cash registers, and receptive hands of all kinds. On his way he befriends other coins, including valuable ones from foreign lands that have no worth in the QUARTER's homeland.
Children are delighted as they also discover the best ways to spend their own money.
Children are exposed to how and where money is created, the various stages of the development of coins, the fact of different coins in different countries, and eventually the concept of children saving their money and then using it to buy something special.
The adventures of our hero, the QUARTER, are comprised of hope, fear, amazement, and friendship…as well as rhymes, humor, and colorful illustrations.