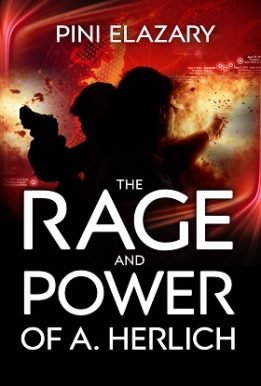 Author: Pini Elazary
Language: English
Category: Mystery, Thriller & Suspense
THE RAGE AND POWER OF A. HERLICH
A series of deadly explosions tear through European capitals.
Twenty-two people are killed in the attack on Rome, including six Israelis. According to the intelligence sources, this is just the beginning. Imad Akbariyeh, who controls the Islamist Organization in charge of the massacre, plans to blow up the Al-Aqsa Mosque and blame the Israelis.
Avner Ehrlich, working in the Mossad's special operations unit, is sent on a pursuit across continents to stop the vicious terrorist from executing his plans. The chase, involving the activation of Special Forces from both the Mossad and CIA, becomes a matter of personal vengeance when Imad discovers that Avner was the one responsible for his father's death, when Imad was still a child.
Unless Avner manages to stop Imad's plan, the entire Middle East will go up in flames.
This action-packed story is full of twists and emotion turmoil, and the rhythm of the plot will keep you on your toes all the way to its shocking ending. You won't be able to put it down! This is the first book published by Pini Elazary, whose wild imagination is facilitated by a fast-paced, gripping style of writing.
The book THE RAGE AND POWER OF A. HERLICH in eBookPro
A series of deadly explosions tear through European capitals. Twenty-two people are killed in the attack on Rome, including six Israelis. According to the intelligence sources, this is just the beginning. Imad Akbariyeh, who controls the Islamist Organization in charge of the massacre, plans to blow up the Al-Aqsa Mosque and blame the Israelis. Avner Ehrlich, working in the Mossad's special operations unit, is sent on a pursuit across continents to stop the vicious terrorist from executing his plans. The chase, involving the activation of Special Forces from both the Mossad and CIA, becomes a matter of personal vengeance when Imad discovers that Avner was the one responsible for his father's death, when Imad was still a child. Unless Avner manages to stop Imad's plan, the entire Middle East will go up in flames. This action-packed story is full of twists and emotion turmoil, and the rhythm of the plot will keep you on your toes all the way to its shocking ending. You won't be able to put it down! This is the first book published by Pini Elazary, whose wild imagination is facilitated by a fast-paced, gripping style of writing.

URL: https://www.ebook-pro.com/en/book/the-rage-and-power-of-a-herlich/

-->