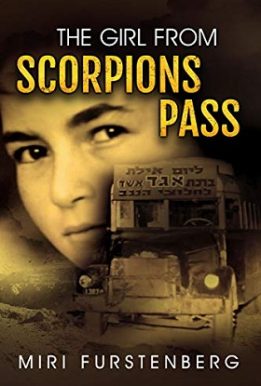 The Girl From Scorpions Pass
Five-year-old Miri is left for dead in a brutal terror attack that kills her parents!
On a desert night a little girl lies shivering under a dead body near a bullet riddled bus too frightened to cry. The violated body of her mother is strewn nearby. Her father, the bus driver, sits slumped over the wheel; his blood has mingled with that of twelve dead passengers. She cannot see her older brother.
Rescued by soldiers hours later, the horror of that night remains locked in her heart…
A few hours later an army patrol stumbles onto the scene of what the morning newspapers will call "The Massacre at Scorpions Pass." Miri Furstenberg was five-years-old, and sixty years would pass before she finds the courage to write about that horrible night.
Until its secrets and her amazing life story are finally revealed in these pages
Miri and the State of Israel were both born in 1948, and her story is bound together with evocative scenes from the country's own. From Tel Aviv in the austere 1950's, to the relative comfort of kibbutz life, helping unearth Masada, and serving in uniform during the Six Day War, the author's vivid memories and stark self-reflection make riveting reading.