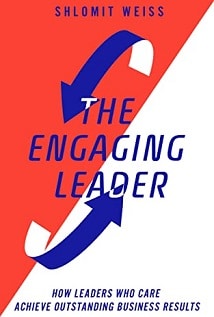 Author: Shlomit Weiss
Language: English
Category: Business, Self-Help, How To
The Engaging Leader
An inspiring guide to becoming a leader who truly cares without compromising on excellent results.
The world has no shortage of leaders – some are strong, dominant, and pushy, others are kind, caring, and empathetic. These traits are often mutually exclusive, and not many people can naturally employ both. But the key to true leadership lies in bringing these worlds together, in combining high performance and uncompromising results with true, honest care for people, their needs and their aspirations. Or in other words, engaging leadership.
This book will teach and inspire you to become the very best leader you can be. One who achieves outstanding results while engaging the people around you through motivation and dedication.
With real-life examples and practical tools, Shlomit Weiss uses her rich experience in leadership and management positions at all levels in the high-tech industry for more than 30 years, to create a step-by-step guide for both the beginning and experienced leader. Guided by three fundamental principles – people, results, and enjoyment – she lays down the paving stones so that you, too, can become an engaging leader.