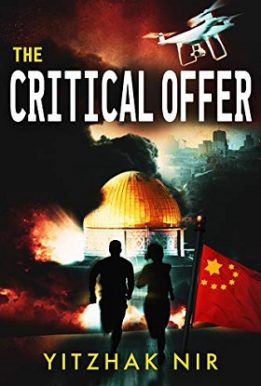 Author: Yitzhak Nir
Language: English
Category: Mystery, Thriller & Suspense
The Critical Offer
A car bomb explosion horrifies Jerusalem.
Head of the Mossad, Gershon Shalit, is enraged by the murder of his daughter, frustrated by his wife's decision to leave and distrusts his prime minister – seeks revenge. But, his first priority is to eliminate the fundamental threats to destroy the State of Israel's existence.
His random encounter with a beautiful Chinese diplomat, leads to an impossible love affair, where he is exposed to a once in a lifetime offer that could diminish the threats to his country. Nothing will keep him from making this offer a reality, despite a heavy personal price.
The Critical Offer is not a 'run of the mill' thriller. Its futuristic and believable plot is based on a wide spectrum of inside information and suggests bold and 'out of the box' solutions to Israel's main dilemmas…
If you care about Israel's destiny – The Critical Offer is a breathtaking book that will keep you awake for many nights…