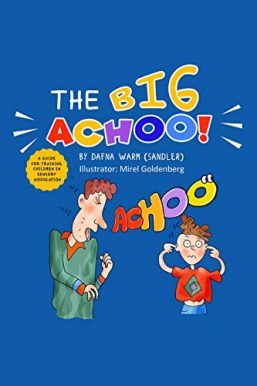 The Big ACHOO!
Help your kid to deal with Sensory Modulation Disorder (SMD).
The story about Ori and his father's deafening achoo uses fascinating illustrations and a healthy dose of humor to demonstrate Sensory Modulation Disorder (SMD). Through the day-to-day example of sneezing, children will learn about responsibility, acceptance, inclusion (containment), and understand about adjusted reactions.
The book lays out the different aspects and expressions of sensory modulation in short, concise chapters. It is written in simple, practical language. Parents and educators will acquire not only information and explanations, but also an abundance of ideas for exercises, games, and strategies for working with children – at home, in the yard, in the classroom, at the park, and anywhere else.
The Big Achoo is a must-have in every household with a child with Sensory Modulation Disorder, and in every clinic that specializes in the subject.