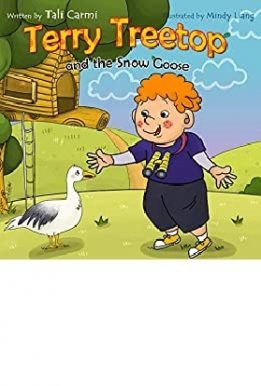 Author: Tali Carmi
Language: English
Category: Children & Young Adults
Terry Treetop and The Snow Goose
The new Terry Treetop book by international best seller author Tali Carmi.
A friend in need is a friend indeed! Terry helps the injured snow goose to recover and get back to his flock.
When Terry Treetop notices a flock of snow geese flying South for the winter, he is sure they must be tired from their long journey and decides to turn his yard into a resting stop for the birds to eat, drink, and recover on their journey.
Soon, a snow goose lands in the yard, but something doesn't look quite right to Terry. He quickly realizes that his new friend is injured and needs urgent help!
Can Terry figure out what to do and who to go to for help?
In this book, children will learn about caring for wildlife and acquire new skills that will help them be better friends to the animals in their lives. They will learn valuable lessons about friendship, patience, and selflessness.
Children aged 2-8 will enjoy the simple rhymes and vibrant pictures in this new book from the much-loved Terry Treetop series.