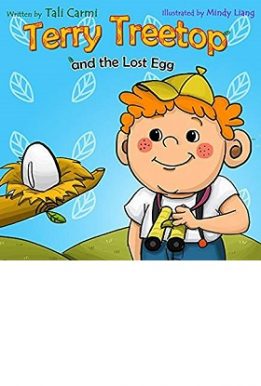 Author: Tali carmi
Language: English
Category: Children & Young Adults
Terry Treetop and the Lost Egg
Terry goes camping and helps a lost egg get back home
Terry joins his family for a camping excursion. A lost egg sends him on an adventure in nature, where he meets different animal moms and learns about their eggs, their life cycle and their habitat. Terry manages to help someone in need, while gaining beautiful friendships along the way.
Terry Treetop and the Lost Egg teaches your child about natural habitats and explains about animals' lives and about motherhood. It builds your child's confidence and demonstrates the power of friendship, kindness and persistence.
This sweet children's book is written especially for children aged 2-8. It's a suitable read-aloud for preschoolers and a great self-read book for beginner readers. Adorable rhyming and 18 beautiful colorful illustrations that children simply love.
Join Terry Treetop for another adventure
Terry Treetop is a boy with red hair and freckles who loves climbing trees, making new friendships, visiting new places and helping out friends in need. Each of Terry's adventures is an opportunity to learn valuable life skills through a precious story that will leave you and your child smiling.
Terry Treetop encourages your child –
To actively pursue their aspirations, needs and dreams
To make a real effort for what's important to them and not be easily discouraged
To be helpful, kind and considerate of others
To respect animals and enjoy nature
To trust themselves and remain optimistic even when things are hard