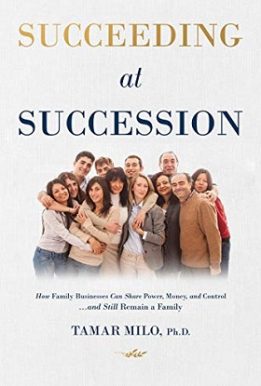 Author: Tamar Milo
Language: English
Category: Business, Self-Help, How To
Succeeding at Succession
Upgrade your business and keep the family united.
Managing a family business is complex. It has many advantages as well as potential obstacles and problems.
Anyone who has ever owned a family business, and especially those who have experienced the transition from the founding generation to their successors, will identify with the hardships and frustration, the things left unsaid, the role of spouses, and the effort required in order to create a true partnership between members of different generations.
Dr. Tamar Milo has accompanied many families over the years and now shares the knowledge and experience she has accumulated, in order to help you become stronger as a person and upgrade your family business.
Her book, Succeeding at Succession is a unique guide which includes numerous stories of families while providing practical tools for dealing with a complexity, which, with the right guidance, can become a powerful springboard for the entire family.y