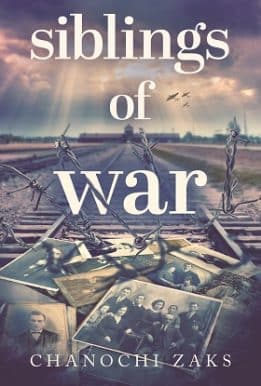 Author: Chanochi Zaks
Language: English
Category: Biographies & Memoirs
Siblings of War: A Captivating Family Survival WW2 Novel Based on a True Story
War tore them apart. Family brought them together.
September, 1939. The six Zaks siblings watch in silent horror as the Wehrmacht marches into their quiet hometown in southern Poland. Concerned for their survival, Yisrael Zaks leads his wife Haiya and his brothers Volf and Avraham towards the Russian border.
But their escape does not go unhindered; and as they are captured by the invading German forces, they can hear their father's last commandment still echoing behind them: "Never break the family apart. And whatever you do: never, ever leave any one of your siblings behind."
Thus begins the Zaks family's saga of survival under some of the worst conditions imaginable. Reunions and tragedies follow as the Zaks brothers: Yisrael and his wife Hayia, Volf, Yossef and Avraham, and their sisters Miriam and Batya witness firsthand the horrors of Auschwitz IV, Buchenwald, and Bergen-Belsen, with only each other to protect them from the greatest evils man has ever known.
The Zaks family story is a unique and gripping tale of the powers of brotherly love, unflinching unity, and unwavering faith against the insurmountable odds of war.
Readers of Eoin Dempsey and Roberta Kagan will find Siblings of War and irresistible, unputdownable gripping historical fiction novel.