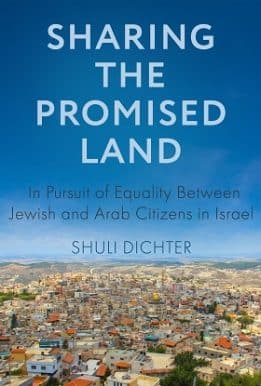 Author: Shuli Dichter
Language: English
Category: Literary Fiction
Sharing the Promised Land: In Pursuit of Equality Between Jewish and Arab Citizens in Israel
A provocative manifesto that challenges the false notion of "coexistence" between Arabs and Jews in Israel and offers a groundbreaking blueprint for a truly shared society.
In this moving memoir, lifelong activist Shuli Dichter traces his own ideological transformation From an Israeli kibbutznik who as a Jew was raised to be a master of the Promised Land, to someone who now seeks complete and full equality for Jews and Arabs there. In twelve moving stories and six powerful reflections, Dichter takes readers along the bumpy path that is required for shaping fair and equal relations between Israel's Jewish and Arab citizens. His insights and conclusions stem from his decades of daily experience as a Jew practicing partnership with Arab colleagues in the realm of civil society organizations.
Following a thorough and painful examination of the first century of Jewish-Arab relations, he suggests a profound conceptual change of Zionism, one that would draw on some of the valuable lessons learned by Diaspora Jewy in living among the nations. This transformation, Dichter argues, is a vital condition for the future of collective Jewish life in Israel.
Can Israel learn from this account? Can Diaspora Jews reshape their view of Israel after years of being shown a reality that never really existed?
Shuli Dichter – lifelong activist, formally executive director of shared society NGOs, has been researching and promoting equality and integration between Arab and Jewish citizens in Israel for over 30 years.
Sharing the Promised Land redefines what it means to be a Zionist in the 21st century. Dichter's thoughtful insights and innovative proposals offer a controversial yet compelling argument for honest, lasting solutions to the power imbalance plaguing the two peoples living in the State of Israel.