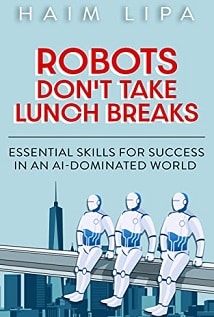 Author: Haim Lipa
Language: English
Category: Business, Self-Help, How To
Robots Don't Take Lunch Breaks
They're untiring, always available, never go on strike and don't they don't ask for social benefits. They're also coming for your job.
Just like with any past major technical progression, AI and automation can and will change the employment landscape forever. What sounds like the opening to a 20th-century science fiction novel will soon be a reality for over 85 million workers – from industrialists to paralegals, accountants and salespeople. Truth be told, there is nothing we can do about it. Their jobs are going to disappear. Fact.
That's not to say you should sit down and wait for the inevitable. If we want to stay ahead of the changing workforce, creating and adapting our unique value is of an absolute necessity. In his new book, national security, innovation, and strategic thinking expert Haim Lipa not only outlines the transformation, but the questions facing an entire generation of future workers:
What is our work's purpose in the 21st century? Can we compete with automation and AI? Should we? How does spiritual intelligence fare against artificial intelligence? And most importantly: how can we stay relevant and necessary in this chaotic, shifting environment?
Robots Don't Take Lunch Breaks is a wake-up call for employees, employers, parents, decision makers, and anyone interested in preparing future generations for life in the new-age job market.