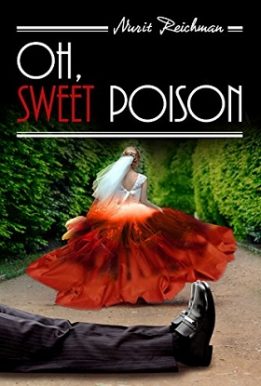 Author: Nurit Reichman
Language: ENGLISH
Category: Romance & Women's fiction
Oh, Sweet Poison
Does love always win?
A marriage ceremony turns into a wild detective mystery in the midst of a romantic and passion driven woodland.
Alona and Yoav are getting divorced after Alona finds love overseas.
She marries her American fiancé William, at his home in St. Louis, set in enchanting woods. Friends and family come from far and wide, including her legendary first boyfriend Dan and her ex-husband Yoav, who hugs their daughter Ella during the ceremony. None of the guests can tear their eyes away from the bride, who gazes lovingly at her new husband; a stranger to most of those present.
And then everything goes wrong…
A gripping murder mystery with captivating characters that you will not forget.
Oh, Sweet Poison is a detective story along the lines of the good old-fashioned style that made the masses fall in love with Agatha Christie. Readers find themselves in the midst of a challenging mystery: a tangle of relationships among a houseful of unusual and complex characters.