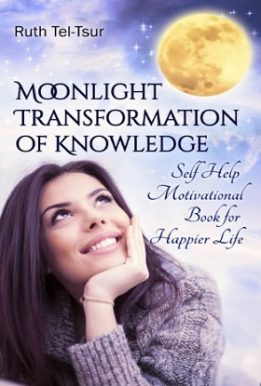 Author: Ruth Tel-Tsur
Language: English
Category: Business, Self-Help, How To
Moonlight Transformation of Knowledge
How are we functioning emotionally?
And why it does not work in our favor?
In this brilliant book, Ruth Tel-Tsur, a clinical psychologist, explains why we feel the way we do and how to change it for the better.
She draws a road map to overcoming the negative influences of hard feelings, pain, and agony and guides us to a healthy path and embracing a positive mindset.
Why?
Because it causes us unnecessary hard feelings of pain and agony in many areas such as: being a parent, being a child, a lover, a teenager, a student, poor orrich, ill orhealthy, skinny orfat, unknown or famous, and so on"…
And so we often find ourselves wondering:
What is it all about?
What is the point of it all?
Why do I feel depressed?
Am I beloved?
What is love?
Is it worth the trouble?
How can I be healthy, wealthy, and happy?
"Moonlight Transformation of Knowledge" provides good answers and gives practical tools for achieving the change you've longedfor, for the sake of our wellbeing.
It is easy to read and apply, and it is highly recommended as a "manual" for a good life – and it is also a nice present for your dearest.