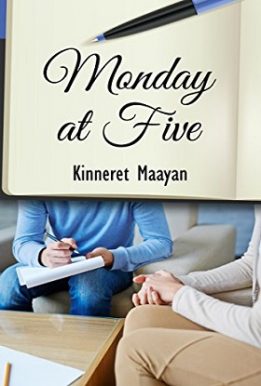 Author: Kinneret Maayan
Language: English
Category: Romance & Women's fiction
Monday at Five
A special connection between patient and therapist sends both on a life-changing quest
David is a gloomy man in his thirties, training to be a spiritual psychotherapist. His teacher, Baruch Talik, is an expert of esoteric philosophy who masters of the secrets of the human mind and soul. David's first patient is Ruth, a widowed nurse in her forties, mother of two, who after years of grief has finely reached out for help. In their weekly sessions, David leads her in meditation and guided Imagery. Each Monday at five, their parallel lives and pains come together in the therapeutic setting. As Ruth makes progress toward a healthier life, ingrained with the love and lust she has thought to have left behind, David's success leads to new patients and to a satisfying professional routine. But wherever he turns, he encounters the same desperate human need for love and connection. Can they save each other, before they lose themselves in their paradoxical relationship?
A fascinating story about the possibility of human connection
A gripping description of two complex characters, gradually exposing their sexual and emotional tensions, until the unavoidable end. A book that will stay with you long after the last page.