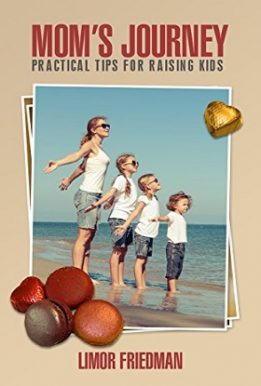 Author: Limor Friedman
Language: English
Category: Business, Self-Help, How To
Mom's Journey
Learn to overcome your everyday challenges as a mother with grace!
Raising kids is a challenging task of magnificent repercussions. At the end of the day, your home may look like an intimidating war zone, or it could be a warm nest you can't wait to come back to. Which one would you choose?
Mom's Journey shares hundreds of essential tips that pinpoint many of the possible scenarios a mom might encounter, from the labor room to parenting a teenager. The book touches all aspects of parenthood, walking you through the years and the developments of childhood and parenting, and the challenges they bring forth.
>>>Essential tips for smart and easy parenting.
Mom's Journey was written by a mom who raised three kids in a loving and supporting family environment, while being a wife and a co-owner of a successful business – and without going too crazy in the process. It's based on real life experience of raising three daughters while balancing marriage and business.
>>>Hundreds of tips on all aspect of parenthood from day 1 to 18 years old.
Raising kids is a task to be managed carefully and thoughtfully. It requires strength and borders on the one hand, as well as softness and caress, on the other. Mom's Journey is an essential book for any mother who is interested in maintaining a happy, calm and respectful family, where family members are kind to each other, considerate and happy. It shares tips for parenting that does not require raising one's voice or implementing punishment in order to make a stand.