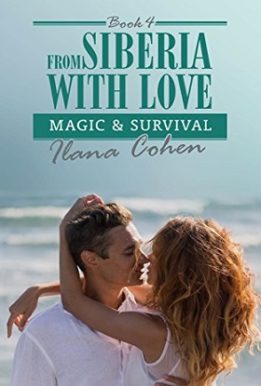 Author: Ilana Cohen
Language: English
Category: Romance & Women's fiction
Magic & Survival (From Siberia with Love Book 4)
Wild sex adventures and orgies mix with a scientific discovery at Siberia University
Encounter the naughty side of life at the university in Siberia where, like at most colleges, anything goes: sexual adventures, orgies, and more. Alex's academic work there is cutting edge. It enables top scientists to produce the first information storage discs that herald a new era: the computer age.
Experience the enticing Tel Aviv singles scene
Then take a peek at the wildness and intensity of the life of young people in Israel. Edith's daughter, Ruth, moves in with her boyfriend in Tel Aviv, leaving Edith very lonely. In her daughter's neighborhood, Edith discovers a group of young former soldiers in the big city for the first time, for better or for worse. They attend university by day and pour drinks by night.
Can Edith induce her lover to leave all else and fulfill their shared destiny?
"Why am I alone, actually? I'm always alone. Inside this great love", Edith muses. She presents her lover, Alex, with an ultimatum: He must leave his wife and family and come live with her. Will Edith finally fulfill what she believes to be her destiny and have her beloved all to herself?