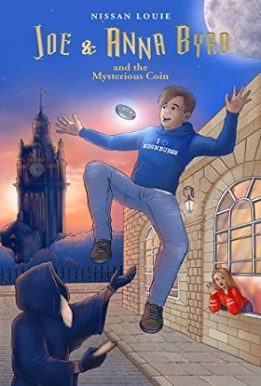 Author: Nissan Louie
Language: English
Category: Children & Young Adults
Joe & Anna Byrd and the Mysterious coin
Soon to be a major TV series
"To experience your new powers to the fullest, you must be considerate of others, believe in yourselves… And, most importantly, you cannot let anyone find out what you're doing."
Although Joe and his sister Anna are orphans, they feel they "have it all" living with their loving grandfather in Sunrise Village. They are sure Grandpa Robbie has no worries, and they feel protected under his wing.
However, this is not the case. Bosco, an international terrorist, is targeting Grandpa Robbie, while the siblings' evil step-grandmother also increases her wicked assaults toward him. Everything changes rapidly and the situation takes a turn for the worse. Joe and Anna are sent to a cruel orphanage and feel betrayed by their grandfather.
But just when they hit rock bottom, they receive a life-changing gift from an unexpected source. Nobody knows it, they now have secret powers.
Unfortunately, the challenges they are facing become almost impossible to overcome. Joe and Anna understand that their reality is about to change forever…
But will it be for the good?