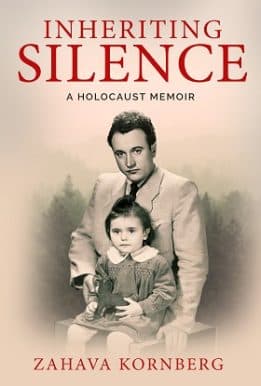 Author: Zahava Kornberg
Language: English
Category: Biographies & Memoirs
Inheriting Silence – A Holocaust Memoir
Forbidden memories. Family lost and found. And a secret, kept for 60 years, about to be revealed.
Zahava knew very little about her parents before her birth in a German DP camp after World War II, or of her father's childhood in Chortkiv, Poland. After he passed away, her father left her with many questions unanswered – and many questions that were yet unknown.
Then her phone rang.
What starts as an innocent inquiry from a fateful stranger, quickly becomes a lifechanging experience. Years after his death Zahava embarks on a journey to rediscover her father's chronicles before the holocaust, learning more about her father's history than she ever thought possible; Enough to reshape her understanding of his life, the war, and his relationship with his family – the one he started with her mother, and the unspoken one he left behind.