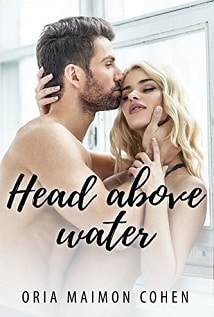 Head Above Water
"On the last morning of your life as you know it, the sun gives no hint of what is to come. Nor does the brightening sky or cool wind that separates night from day."
Dylan Rice's teen love for Reef Taylor, both sixteen-year-old surfers, is truncated by the tragic disasters that befall her.
Eight years later, burdened by guilt and remorse, Dylan strives to keep her Head Above Water, continue her life away from home and atone for past sins while working as a youth rehab counselor. A visit to her hometown forces her to re-examine her relationship with the man in her life and confront her self-imposed prohibition, the grief and secrets of the past and, most of all, the love of her youth.
Her journey may cost her more loved victims, but might also bring her peace and the chance to move on. All she knows for certain is that once the truth is fully revealed, her life and the lives of those dear to her will never be the same again.
Oria Maimon Cohen, a lawyer and VP marketing in Maimon's spices and Maimon's baking, is married to Yaniv and they have three children: Emri, Jonathan and Ella. Head above Water is her second book.