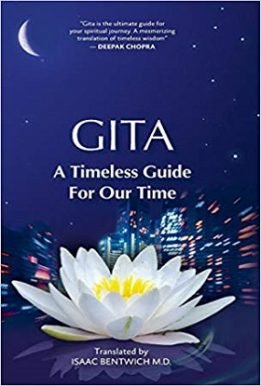 Gita – A Timeless Guide for Our Time
The inner voice of your soul
guides your ultimate journey…
The Gita is one of the world's most trusted, timeless guides for happiness, meditation, spiritual personal-growth and transformation. One which is ever so relevant today. Beethoven, Jung, Leonard Cohen, Gandhi — these and so many others of the world's most brilliant scientists, creative-minds and spiritual-teachers, found the Gita a source of Wisdom and inspiration.
Your happiness does not depend on any teacher, guru or religion. Gita's still, clear voice echoes the inner voice of your soul, guiding you on an inner-journey that will unleash your full potential. Empowering you to do good in the world, and to be transformed in the process. To change the world around you, by first changing the world within.
This new poetic translation recreates, for the first time, Gita's mesmerizing melodiousness, letting you tap its intuitive Wisdom. It is also the first translation that speaks directly to men and women alike.