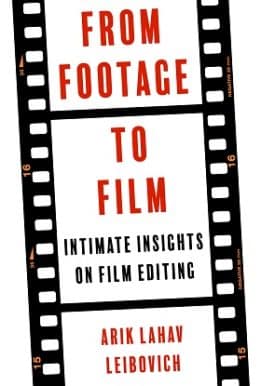 From Footage to Film: Intimate Insights on Film Editing
The editor behind internationally acclaimed films shares his highlighting thoughts on editing in modern cinema.
Footage to Film does more than teach and showcase novice and veteran editors how to cut and edit a movie. In its uncharacteristic honesty and forthcoming language, it illustrates the experience of sitting in the editing room. With humor and eye-level guidance, it shares the professional 'secrets' of the trade that most experienced editors hold very close to their chest.
Laced with anecdotes from award-winning films such as The Band's Visit, Lebanon, and Foxtrot, veteran film editor Arik Leibovich reveals his personal and professional insights on what makes editing's important role in cinema. From basic theory to practice Leibovich describes what it feels like to sit as the director's co-pilot, navigating the complex pathways of storytelling, and transforming raw Footage into Film.