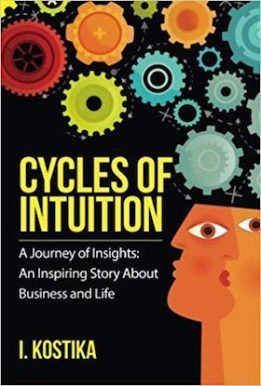 Author: I. Kostika
Language: English
Category: Mystery, Thriller & Suspense
Cycles of Intuition
An inspiring story about business and life
A father and son embark on a journey of discovery and insights and arrive with groundbreaking ideas.
"In this business book, Kostika(Flow Management Technology, 1989) uses a fictional format in the tradition of Who Moved My Cheese? (1998) to explore the challenges inherent in the customer-facing aspects of a small business." -Kirkus Reviews
After graduating college, Steve returns to his family's business and becomes frustrated when he isn't given the lead. But one day, Steve's father brings him into his office, announcing that he will be retiring immediately-and reveals that their business is facing some serious problems. Challenged with the sudden change and pressed by time, Steve and his father start out on a road of discoveries.
Together, using intuition and logic, they crack the puzzles of their business, locate and overcome bottlenecks, and break new boundaries in their service enterprise. Their dialog elevates intuitive observations into measurable formulation for the sake of understanding the nature of service and customer satisfaction.
Throughout their journey they meet with friends and other characters, revealing numerous surprises and twists-while managing to bridge the generational gap with affinity and respect. With these, Dad and Steve come up with a new approach that helps them redefine the fundamentals of their venture-relevant not only for them, but is an eye-opener for everyone else as well as the reader.
˃˃˃ An engaging fictional novel and a real eye-opener
This book will help you improve your business in the face of changing reality and new complexities. It will teach you how to consider service cycle and service ratio, how to deal with unpredictability and other major problems, in order to improve efficiency of your business.
I. Kostika uses an engaging fictional story to explore the changing dynamics of the business world and uncover key lessons about business and life.