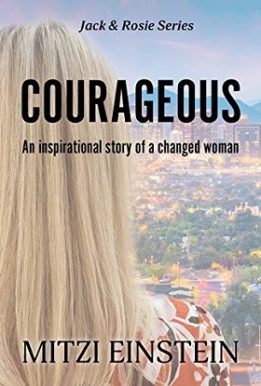 Author: Mitzi Einstein
Language: English
Category: Romance & Women's fiction
Courageous
Courage is not the absence of fear.
Courage is the realization that in order to change something, you must take the first step. It's hard, it's scary, and it has a price.
But it is possible.
This is a story about the courage to make a change.
Rosie Porter had lost all hope for a better life; she has been working as a waitress at a local diner in Phoenix, married to a cynical and frustrated man, and raising her teenage girl. Even though deep down she feels that she deserves more, the disappointments in her life have extinguished her inner flame and obliterated her self-confidence. She just can't find the courage to change her life.
Until Doctor Jack Evans, the diner owner's son, came along.
Rosie soon realizes that she is about to face many challenges, one of which is a great temptation – staying close to Jack, whom she cannot seem to get out of her mind. Although their relationship has its ups and downs, for the first time in her life Rosie feels that someone finally believes in her.
Or perhaps it's her who is changing?
Is Rosie on the way to change her life, or is the diner and Jack just another stop on her disappointment-riddled journey?
I believe we should all live a happy and meaningful life. We all have our battles, but I think we are stronger than our problems.
The "Jack & Rosie" stories are based on true events, they are my way of telling you that changing your life is possible. Each story gently tackles a barrier which may seem impossible to overcome until taking the first step.
"Courageous" is the second story and is dedicated to the courageous people among us who have changed their lives, and to those who are willing to make a change.