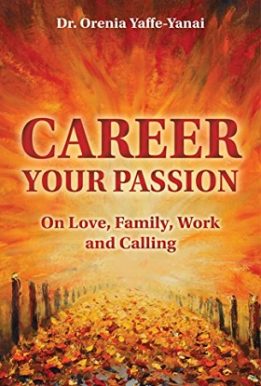 Career Your Passion
Overcome professional stagnation and frustration and chart your course for long-term fulfillment with this best-selling guide to professional realization.
How can I express my skills? Which career will offer me the enjoyment and fulfillment I seek? Why do I feel stuck and stagnant? Why don't I know what I want? And even if I know what I want, how come I have no idea how to get it? What kind of work will fill me with energy and enthusiasm? With so many possibilities, how can I decide what's right for me?
Questions about work and career are actually questions of identity and meaning: What is right for me? What do I want to be? Where lies my passion? How can I sustain myself in a way that's true to myself and connect to my inner recourses?
Contrary to our expectations, personal fulfillment and realization isn't always a clear or easy process. Sometimes, it requires courage and takes it's toll in frustration and pain. Career Your Passion bravely addresses the professional stagnation and its sources, and teaches you to turn it into a source of inner strength. It raises the necessary questions to help you find your own path to personal fulfillment and teaches you how to turn intuition and understanding into action.
Are you feeling stagnant, experiencing confusion, disorientation or despair? Let Career Your Passion be your guide!
Career Your Passion is the fruit of years of experience and hard work by Dr. Orenia Yaffe-Yanai, a senior clinical and occupational psychologist. It was originally published in Hebrew in 2000, immediately finding its way to the national bestseller lists. Since then, it was translated to five languages and helped readers all around the world.