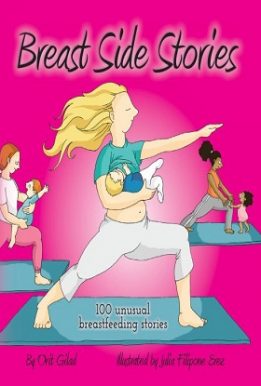 Author: Orit Gilad
Language: ENGLISH
Category: Business, Self-Help, How To
Breast Side Stories
Right, it's sometimes hard to act conventional when your baby is hungry!?!
Breast Side Stories combines 100 funny mini-stories of breastfeeding mothers from all over the world together with lovely, humorous illustrations that bring the anecdotes even more fully to life. Isn't it true that we have all had some weird moments while nursing? The most natural way of feeding a baby can be downright humorous when you find yourself with a hungry tyke in places like the zoo, the dentist's office, or at a job interview.
Can you latch on to the humor of breastfeeding in strange places?
Have you ever held a pose in yoga class with your baby attached? And imagine the looks you might get nursing your baby in a tattoo parlor. One mother even made herself comfortable sitting on a store display featuring cases of baby formula before she realized the irony of her choice! This book is dedicated to all the breastfeeding mothers out there. Be you a veteran or new to breastfeeding, you will surely relate to and enjoy these humorous stories!