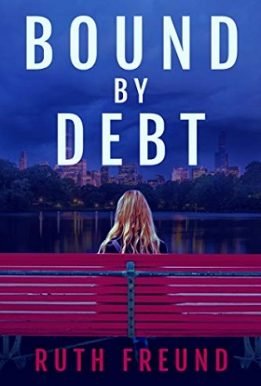 Author: Ruth Freund
Language: Enlglish
Category: Mystery, Thriller & Suspense
Bound by Debt
When money goes missing, the ends justify the means
Iris, a beautiful young woman who grew up in a loveless home, escapes to New York City with her eight-month-old daughter following her husband's betrayal. Lonely and heartbroken, she takes a job at a prestigious brothel in Manhattan, setting off a whirlwind of events that rocks the foundation of her already fragile existence.
The ordeal begins when one of her regulars, a wealthy Jewish Orthodox diamond dealer, is murdered. Her life becomes a dizzying odyssey as she is pursued relentlessly by the Jewish Mafia demanding information about money her customer stole, information Iris does not have.
When the brutal chase is taken to the extreme, Iris understands that her dream to raise her child in a sane environment is eluding her. Now, she is willing to do whatever it takes to protect her, even at the cost of endangering her own life.