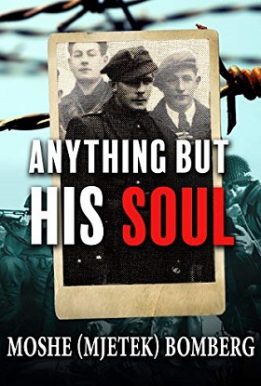 Author: Moshe Bomberg
Language: English
Category: Biographies & Memoirs
Anything But His Soul
Meeting his brother in Auschwitz, he understood that they are all alone
A young boy's world falls apart! He can trust no one and does not know what his tomorrow holds or if he will live to see it.
Poland 1944, Mjetek finds himself in Auschwitz after taking part in Zionist underground activities trying to fight against the Nazi occupation of Warsaw. He meets his brother and understands that their entire family has been massacred and that their days are numbered. Mjetek decides to not give up and says he is a blacksmith, though he has never worked with metal. At work in one of the factories, a melted piece of iron falls and burns him. He manages to go back to the camp and his brother takes care of him, selling his golden tooth for medical supplies. Staying in the "clinic" was supposed to be the end of Mjetek but this is actually what saves him. When his brother is marched to his death and they have to say their final goodbye.
Mjetek's story of survival is marked with small miracles, determination and unbelievable bravery. This memoir will leave you breathless and heartbroken, yet, inspired.