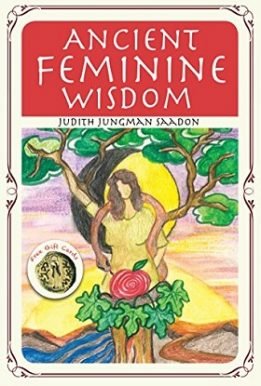 Ancient Feminine Wisdom
Do you wish to fulfill your dreams? Do you dare to experience change?
The women of the Bible come alive as a source of inspiration for you, to help you on the way to fulfilling your dreams and wishes; to pave a road for you to go back on and discover more about the woman you are, about the woman you want to be. The women of the Bible, filled with courage, daring and wisdom, come alive to bring powerful energy to your life's journey of growth.
Ancient Feminine Wisdom brings to life the stories and voices of nine biblical women, to be a source of inspiration and enlightenment for you. The book includes the stories of Eve, Sarah, Hagar, Rachel, Leah, Tamar, Hannah, Naomi and Esther. For every spiritual woman you will find: Her ancient biblical story; a feminine perspective of the biblical woman's narrative, to open you up to a new feminine point of view hidden in the ancient story; four insights and four imaginative journeys that represent the biblical woman's growth and allow you to receive guidance from her, to discover her unique secrets and wisdom, to experience meaningful change in your life; and a story of healing from the writer's clinical practice, inspired by the biblical woman. Ancient Feminine Wisdom will guide you on your spiritual journey toward finding your internal beauty and strength; toward realizing your desires, your creativity, your love for your feminine body and your ability to listen to its wisdom. The biblical women will help you discover that you can dare to say what you think, sound out your voice, be heard, think creatively and rejoice over your womanhood.
˃˃˃ Do you let your voice be heard?
Sarah, as a spiritual guide, encourages you to express your voice honestly and clearly, without fearing the reaction of others. She helps you discover how significant your voice is, how vital and blessed is your perspective on life.
˃˃˃ Do you feel that you don't have what it takes to fulfill your heart's desire?
Leah, as a spiritual guide, accompanies you in your life, showing you that there are different ways to achieve your heart's desire. Leah shows you that the secret of change sometimes lies in becoming aware of your own gifts.
˃˃˃ Is a new challenge lying at your doorstep? Are you afraid? Unsure?
Esther is a spiritual guide, encouraging you to dare, to know that you have the choice to leave your limited space behind, to fulfill your potential, to fulfill your destiny.