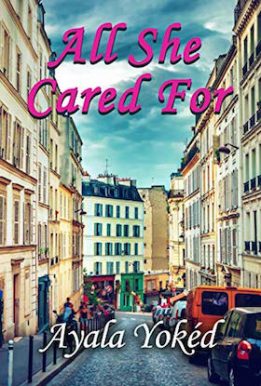 Author: Ayala Yoked
Language: English
Category: Romance & Women's fiction
All She Cared For
Michelle is in trouble – but she's fighting for her ideals!
In this psychological romance a group of university students and soldiers go underground to try to implement ideas about which they are passionate. The French police are after them. Michelle has just been released from jail in France after attempting to damage an arms factory.
Michelle has two lovers – but she's not in love!
Michelle comes to Israel and rekindles her romance with David, a middle-aged, married professor. Tom, her student lover who had been wounded in war, and Gad, David's son, are also among the rebels. Michelle is intellectual, arrogant and teasing – and not committed to either of her lovers.
Michelle's rebel group depends on her – but nothing is simple!
Michelle's friends know they can rely on her, but they each struggle with their own internal conflicts. David is terrified about his son's entanglement in illegal activity. His own failure as a soldier still haunts him. David's sister, Pola, comes to visit and supports their activity. These idealistic rebels will inspire you, despite their dilemmas!