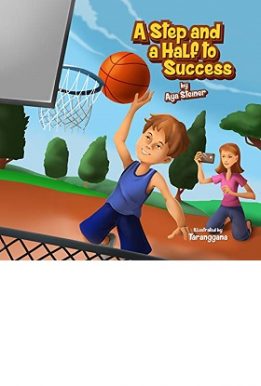 Author: Aya Steiner
Language: ENGLISH
Category: Children & Young Adults
A Step and a Half to Success
Eric struggles to overcome painful emotions and become an even better athlete!
All his life Eric had easily succeeded at everything. When invited to join a league basketball team at age 10, he suffered the humiliation of scoring a single basket during the first major game, and fear overtook his game. New to painful emotions, it took some time to convince him to talk about his feelings and teach him how to process emotions, understand their meaning, control his fear, and then further elevate his game. He also learns the importance of continued training after success, as well as the meaning of self-responsibility.
Enable your child to improve performance in competitive sports with Eric as a role model
Eric will teach your children, by example, how to successfully deal with the stressful emotions in competitive sports that undermine their game, how to speak about and process painful emotions, as well as the meaning of self-responsibility. Parents will acquire tools for enabling their children to address emotions, develop emotional strength, and improve their achievements in competitive sports.