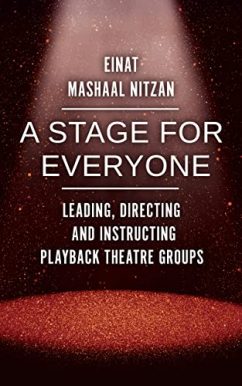 A Stage for Everyone
A comprehensive and practical guide to leading Playback Theater groups
As a form of improvisational theatre based on true life stories, Playback Theatre can be a truly life changing experience. Each practitioner in this special theatrical form is well aware of its merits: listening, joint creativity, spontaneity, a deep feeling of community and meaning, a place to tell your life stories.
To truly endow the playback magic, the participants' improvisation, acting, and listening skills must be honed, developed, and navigated by an experienced and seasoned guide.
In her book A Stage for Everyone, Einat Mashaal Nitzan shares details of what to teach – themes and exercises from the fields of improvisation, acting, and playback theater, together with details of how to teach – key content for leaders of creative groups.
In this book readers will find:
● 250 warm-up, listening, improvisation and acting exercises
● 30 study topics
● 25 classic and new playback forms
● Playback Theater skills questionnaire
● A glossary of terms from the worlds of acting, improvisation and playback theater
● Tips, tools, examples, and stories from the field
A Stage for Everyone is a must-read for anyone currently involved in playback theatre, as well as directors, theatre teachers, improvisors, group conductors, or expressive arts therapists; For all lovers of the field or simply for anyone who believes in the power of improvisation, theatre, and storytelling.