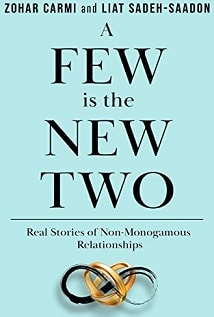 A Few is the New Two
In a world where monogamy is widely the only acceptable form of a relationship, some people find that two just isn't enough…
In this brave and groundbreaking book, men and women from all forms of polyamorous relationships share their stories with the world. In 33 inspiring monologues, they talk about intimacy, jealousy, passion, pain, and of course, the difficulties and benefits of opening a relationship to polyamory.
Their stories and experiences are analyzed in depth by the authors Zohar Carmi and Liat Sadeh-Saadon, who provide a fresh and sensitive perspective on the world of non-monogamy and create a safe space for discussion, consideration, and experimentation.
This eye-opening and judgement-free book is meant for anyone in an open relationship looking for guidance, anyone considering taking the step into non-monogamy, and anyone just interested in knowing more about it.