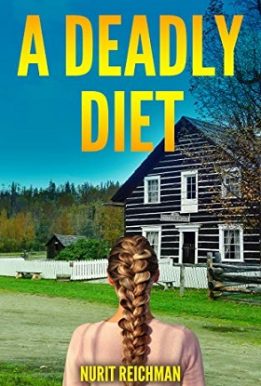 Author: Nurit Reichman
Language: English
Category: Mystery, Thriller & Suspense
A Deadly Diet
What happens when an innocent slimming retreat turns into the scene of a murder?
Twelve people get together in order to take part in a unique weight-loss workshop at the Pension Grande in the city of Marbella, Spain.
But the choice of the Pension as a venue soon turns out to be a recipe for disaster.
The harsh conditions created by a rigid dietary regime and strict house rules, which leave them with very little freedom, only serve to increase the pressure exercised on the participants.
When a mysterious murder takes place unexpectedly one night, the entire picture changes.
Each one of the pension's guests has something to hide, no one is clean and everyone is a suspect.
Will Detective Martinez and his loyal dog, Julio, who have arrived in order to solve the enigma, succeed in their mission?
This unconventional detective novel blends together a project to save books stolen from Jews by the Nazis, insights on Torat Hanefesh—Jewish Psychology—with amazing views, colorful characters, dog and human love.
Nurit Reichman weaves a luscious, complicated plot and she does it with much gaiety and humor, through accurate descriptions of each and every character in her own peculiar language. She adds into this suspenseful story some of the recipes that were served at the workshop, to further enhance the reader's enjoyment.