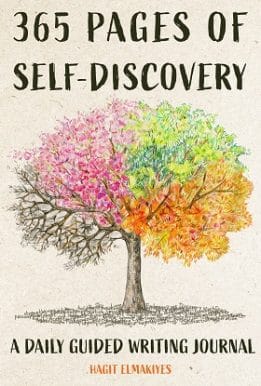 Author: Hagit Elmakiyes
Language: English
Category: Business, Self-Help, How To
365 Pages of Self-Discovery – A Daily Guided Writing Journal
Discover yourself anew every single day.
We all strive to connect with ourselves on the deepest level, but we don't always know how. 365 Days of Self-Discovery will aid your journey of self-care through daily intuitive writing prompts, masterfully designed in the spirit of each of the four seasons.
Whether with your morning coffee or at the end of a long day, take some time to yourself to engage in these introspective writing exercises that will help ground your daily routine with meaning and stability. With proven techniques stemming out of a year-long writing workshop, 365 Days of Self-Discovery will help you:
Discover yourself

 – questions and insights will encourage you to fearlessly express your inner feelings and thoughts

Motivate yourself

 – daily prompts will give you the motivation you need to maintain a routine of self-care
Express Yourself – with creative writing exercises to flex and stretch out your unique inner voice

Love yourself

 – your own words will help you acquire the confidence and courage to be truly whole
Time to pick up a pencil and let inspiration flow into four seasons in 365 days of words that are wholly and truly you.